California's Future and Climate Change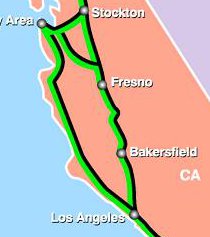 Fast Company reports on Peter Calthorpe's Vision California project, which is providing scenario development and analysis support for the California High Speed Rail plan, which has been estimated to cost over $40 billion. The article notes that Calthorpe is emphasizing that the High Speed Rail scheme is crucial for California's efforts to provide leadership in carbon reduction to mitigate climate change - California Assembly Bill 32 requires that the state reduce carbon emissions to 1990 levels by 2020.
We at the Scenarios Lab are following Calthorpe's work with particular interest - we will be announcing details of our own scenarios project focussed on carbon reduction and climate change in California in the near future.

Picture: Planned route of California High-Speed Rail Corridor (Federal Railroad Administration via Wikimedia Commons)
Posted by
Zhan Li
on 06/01 at 08:23 AM
Blogging
• (269)
Comments
•
© 2010 USC Annenberg Scenario Lab